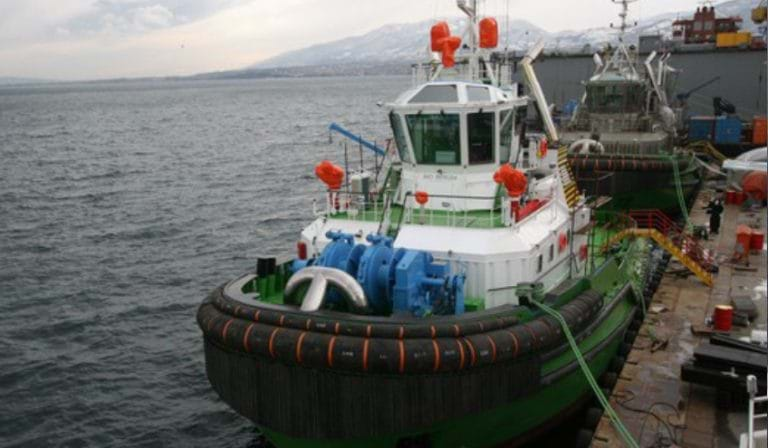 On 21st Feb 2014 UZMAR Shipyard, also known as "Workboat and Tug Factory" of Turkey, announced the delivery of first two most advanced diesel electric shallow draft river push boats to Brazilian Owners, Hidrovias do Brazil S.A. A total of eight ordered push boats will operate in Parana River, South America under a long term iron ore barge transportation contract with VALE. The first two push boats were transported from UZMAR Shipyard, Turkey to Uruguay by semi-submergible heavy cargo vessel in early March 2014.
Robert Allan designed and Vienna Model Basin optimised push boat design is specifically customised for Hidrovias do Brasil's essential operational requirements of range, crash-stop distance, speed and heavy fuel oil operations. The main objective is to shorten the voyage transit times with sophisticated power management technology and reduce the fuel consumption on per mile per tonne basis. The higher installed horse power and greater manoeuvrability with three z-drives move the 16 barge flotilla through the 2.500 km range at higher average speed.
The 16 barge flotillas of approx. 48.000 DWT each pushed with this newly designed vessels will operate in extremely circuitous Parana River route and crash stop ability is the key factor in achieving the average speed with min. 2.10 m draft, as well as higher manoeuvrability.
The vessels are measuring 45.6 m in LOA, with a beam of 16.5 m, the tugs have a maximum draft of 2.5 m full loaded and are powered by 3 Wärtsilä 9L20 diesel HFO generators each developing 1800KW at 1000 rev/min. This power is transmitted to AC direct controlled asynchronous electric motors for variable propulsion with 3 Schottel SRP 1215 FP propellers of 2150 mm diameter. Diesel electric propulsion system is supplied by Wärtsilä and ABB, integrated by ELKON (a subsidy of IMTECH). This arrangement proved bollard of 69 tons ahead and 63 tons astern and free running speed of 13.2 knots. Besides, due to UZMAR's advanced engineering and building process the design lightweight target is achieved by 97% accuracy.
Uzmar is extremely proud to have been involved in this innovative new push boats project. This diesel electric push boat project will raise the standards of efficiency and safety in river transport industry.