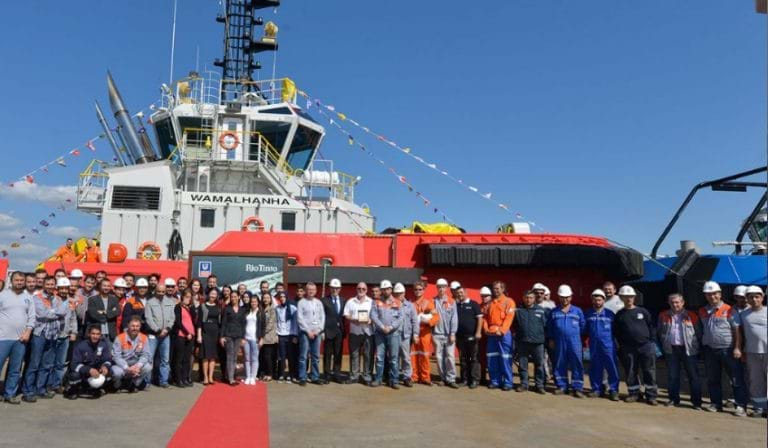 WAMALHANHA is the final newbuild in a series of six tugs of the Robert Allan Design, RAstar 3200 where her main duties will be terminal activities, escort duties, ship assist, towage duties.
She was named on 24 September 2014 at UZMAR Workboat and Tug Factory for delivery. Rio Tinto owns six vessels in this series, these are PILBARA APOLLO, KASHIMA, MATSUZAKA, BARRURA, GURRGURA and WAMALHANHA. These vessels have been adapted to requirements for the work in Australian Iron Ore Terminals including power and improved NOx and SOx reduction for the exhaust emissions.
The naming ceremony was cheerful for everyone. Speaking on the Owner's behalf, CEO (Chief Engineering Officer) Peter G Bryant, Rio Tinto'son-site shipyard representative, commented in the Christening Ceremony:
''This is a very important occasion for both Rio Tinto and Uzmar. NB 64, or Wamalhanha, is the 7th vessel built for Rio Tinto by Uzmar as part of our (RT &Uzmar) project that started nearly 4 years ago and this particular
vessel is the end result of a lot of dedication and hard work that has gone on over those four years. It has been a great pleasure for Rio Tinto to work with the Uzmar team to develop a tug boat that will suit the conditions
in the harsh environment of Australia's northern mine export ports.
NB 64 is part of a large expansion project for Rio Tinto in Australia's Pilbara region where iron ore is shipped to countries all over the world. Rio Tinto in the midst of a major expansion and growth programme in the Pilbara,
having completed a first phase capacity increase to 290 million tonnes a year, which some of the sister tugs are now supporting. Continuing on with this growth the phase two expansions are working towards 360 million
tonnes a year (30 million tonnes per month or about 5 cape size ships per day). It is a lot of shipping that requires good tug boats to assist it. The Uzmar tugs are very much a part of that expansion project and Wamalhanha will help achieve the end objectives. With your help the Rio Tinto team here in Turkey has been able to make ongoing changes to the tugs. The flexibility and co-operation displayed by you, the Uzmar team, in both the building of the tugs and work with us on safety has been greatly appreciated and we believe very productive. Our thanks extends the safety, design, purchasing, planning, production, technical, maintenance departments In particular we would like to thank; Captain Kaan Altug, Hasan Ata, Ismail, Ramazan, Ali Kurt, Demet Odabas, Ozer,Volkan and Ali.
We would also like to thank you for the experience we have had here as guests in your country, Turkey. Your hospitality, friendship and sense of humour have always been of the highest order and our cultural experience in Turkey has been one to remember. Finally, I would also take this opportunity to wish the Redwise delivery crews fair winds and following seas for the voyage to Australia. We know these are good vessels and are sure you will have a good voyage. Thank you''
Capt. Kaan ALTUG, The executive vice president of UZMAR Workboat and Tug Factory said:
''We are proud to have built such an excellent another tug boat. This is another continuous example that UZMAR has surpassed itself to deliver a very complex and smart design built to Australian standards. There is no longer any doubt about the ingenuity of our team and our desire is to continuous improving our building ability at highest quality possible. Rio Tinto has been an excellent Client for us to work with throughout the entire project and we will be looking forward to work again with them in future. God bless the new Vessel and her crew during Her maiden voyage to Australia and wishing this new Vessel a safe voyage with winds and seas always at Her stern.'
This latest vessel measures 32.00m overall with a beam of 12.80m and a draft aft of 5.37m. She is powered with a pair of Caterpillar 3516C main engines, each developing 2,350kW at 1,800rpm driving Rolls-Royce US 255 CP type azimuthing Z-drives of 2,800mm diameter. Two sets of Caterpillar C 6.6 125eKW generator sets provide the auxiliary power. The vessels of RAstar3280 design has an optimal combination of sea keeping, escorting, fuel-efficiency and Bollard Pull power.
The RAstar 3200 Escort/ Offshore Terminal Tug designation is reserved for a unique class of a very high-performance ASD tug, designed with a sponsoned hull form, which has been proven in both model and full-scale testing to provide significantly enhanced escort towing and seakeeping performance. The hull form reflects the now very well-proven double chine form that characterizes all Robert Allan Ltd. escort class designs with a sweeping "chined" stern.The escort forces are enhanced by the effects of theside sponsons as well as the foil-shaped escort skegs fitted. Roll motions and accelerations are less than half those of comparable sized "standard" tug hulls. These tugs will typically be high-powered and are intended for escort operations in weather and sea-exposed areas such as many new LNG terminals, as well as confined areas with the duties of assisting large container vessels where a high standard of seakeeping is required.
Accommodation caters for 6 persons on extend voyages/normal operating crews of 2-3 (optional for 10 crew). There is an acoustic ceiling in the wheelhouse and living quarters throughout have floating floors and are air-conditioned. There are single cabins for the captain and chief engineer, both with en suite facilities, cabins, galley, mess/dayroom, dry store and communal sanitary facilities. There is one Ridderinkhof made, forward towing winch having 240 tons brake load capacity. The electronics fit-out in the wheelhouse is sophisticated with items including Alphatron Autopilot, FurunoNavnet Radar/GPS/Chart Plotter, Inmarsat-C system, Ultrasonic Weather Station, Cassens & Plath Reflecta 3 Magnetic Compass, Jotron GMDSS Hand Held VHFs.
The selection of the fenders in this series were especially important due to their working conditions. Extensive analytic work was done during design stage with the designer and the Owner which considered weather conditions, bollard pull, initial contact loads, dynamic load effects, friction requirements, sea water lubrication at high water volumes, pushing angles, hull attachments, fender tolerances, material quality and spares availability. Detailed considerations were given to the hull in way of the fender system which is divided into 4 working areas, these are: Bow/Stern Locations, Pushing Locations, Side Beltings, Interface locations due to their working conditions. Hollow Rectangular fenders are used on the side beltings and on the interface areas between site beltings and bow/stern fenders, W fenders are used on the bow section and supported with fender plates, at the same time top brackets are aligned with every fender centre and in between fenders, also aft is protected with heavy duty W fenders.
The selection of W fenders based on the specialities and the application of the material. The W-Fender is one of the most successful fenders for tugs in the world today. It has a unique 'open bore' design which makes installation very simple. The flexible legs allow W-Fenders to be curved around most hull shapes. Extreme-duty design, twin-leg attachment, open bore for easy installation, grooved for extra grip fits around tight bends features are also considered for the selection of right fender.
Hollow rectangular fenders are used on the sides providing large contact surfaces for low hull pressures. Their grooved surfaces provide exceptional grip. Hollow rectangular fenders have a traditional 'keyhole' profile which is strong and ideal for heavy-duty applications where there is very low friction, hollow rectangular fenders made as composite fenders with integral UHMW-PE faces. This is useful for tugs that operate in heavy swell and storm conditions. Heavy-duty design, traditional, proven shape, grooved or smooth face, optional UHMW-PE face features are also considered for the selection of those fenders.
Additionally, an advanved high pressure, two tier and through complete stainless steel piping Fender Spray System is adopted to advance the efficiency of the fender lubrication. This system lubricates the fenders with spraying sea water. As a result the vessel does not face any overheating efficiency droppings of the fenders and operates at its best condition for a longer period.