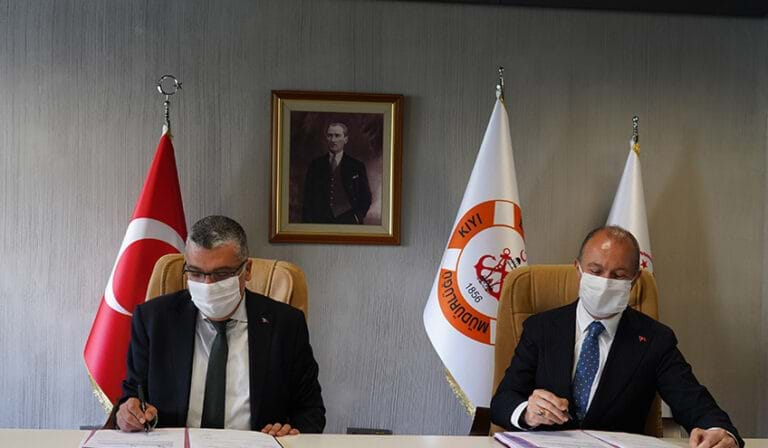 The signing ceremony was held for two RAstar 3200W series emergency response – escort tugboats which UZMAR Shipyard will build for Directorate General of Coastal Safety!
Tugboats will be built for the Directorate General of Coastal Safety, which provides the safety of navigation, life, property, and environment, and ensure maritime security at the highest level in the Turkish Straits and Maritime Jurisdiction Areas of Turkey. The organization's core competencies are Ship Traffic Services, Rescue / Assistance Services, Navigation Aids Services, Maritime Communication Services, Pilotage, and Towage Services provided within the borders of Turkey.
The tender for two RAstar 3200W series, 32-meter, and 80-ton tugboats in early May 2020 was awarded to UZMAR Shipyard.
The signing ceremony held at the headquarters of Directorate General of Coastal Safety in Beylerbeyi Üsküdar on Thursday, May 28, 2020, in accordance with the social distance rules.
The contract signed by UZMAR Chairman of the Board Mr. A.Noyan Altuğ and General Manager of Directorate General of Coastal Safety Mr. Durmuş Ünüvar. The construction of two tugboats will begin in the coming days, to be delivered within a year.
After the signing ceremony, UZMAR Chairman of the Board A.Noyan Altuğ stated; "I would like to thank everyone who contributed to this mission, and I highly believe that our tugs will be beneficial to DGCS. It is an honor for us to take part in this project. As our founder, Captain Altay Altuğ always tells us, "What we gain from the sea, we give it back to the sea". The tugboats that we will build for DGCS are the prestige project for UZMAR. Thanks to our Ministry of Transport and Infrastructure, we are now among the companies that build a state of the art tugboats and workboats around the world. By building these tugboats at the highest standards, we will deliver our state the best quality tugboats in the world. As UZMAR, I remember we bought our first tugboat from the Netherlands about 30 years ago. We now build signature projects and export vessels beyond perfect to all parts of the world, including the Netherlands. We are extremely happy to be able to use tour know-how in this proud project for our own country. DGCS not only signed for tugboats with us, but they also signed a family that will be at their service a lifetime.
RAstar 3200W series tugboats are accepted as the highest capable tugboats in their class in the world with seakeeping, maneuvering, and escort capabilities. The tugboats are equipped with the latest technologies. The basic duties of the series are ship rescue duties, escort duties, towage services, towing and pushing duties, port services, fire extinguishing services, and stand-by duties.