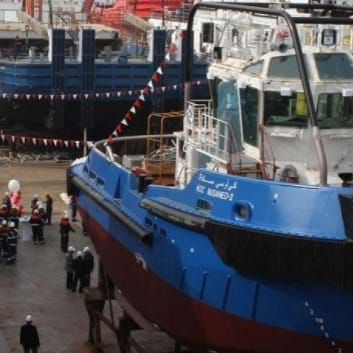 Turkish shipbuilder Uzmar is planning to construct 20 tugs in 2018 on speculation to sell to tugboat operators. These will be built to new designs that have been developed by Uzmar in association with naval architects at Robert Allan.
These designs are wider than previous versions for more stability and manoeuvrability. Uzmar senior contract and project manager Ural Kavaklioglu told Tug Technology & Business that these designs were variants on two types of RAmparts and one of RAstar.
Uzmar will build tugs of RAmparts 2300 W-UZM that have bollard pulls of up to 60 tonnes and to RAmparts 2500 W-UZM design with bollard pulls of up to 75 tonnes. Uzmar will also build tugs on spec to the RAstar 3000 W-UZM design with bollard pulls of up to 90 tonnes.
"We will start building these 20 tugs once the 3D modelling is completed," Mr Kavaklioglu said at the Europort exhibition in Rotterdam, the Netherlands.
At present, Uzmar is building two tugs and a pilot vessel for a liquefied natural gas (LNG) import terminal in Port Qasim, Pakistan. These specially-adapted tugs are due to begin operating in Q3 2018 and will be powered by Caterpillar engines driving two Rolls-Royce propellers, delivering up to 80 tonnes of bollard pull.
Uzmar is also building two RAmparts 3000 design tugs on spec with bollard pull capacity of 75 tonnes ahead and astern for delivery in Q1 2018. Mr Kavaklioglu also said that Uzmar is building two RAstar 3200 tugs with bollard pulls of up to 80 tonnes ahead.