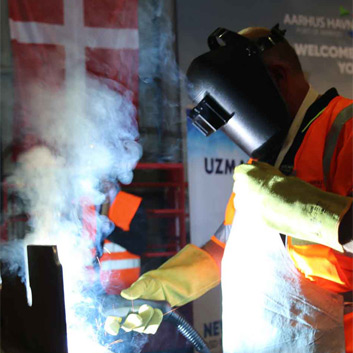 UZMAR Shipyard of Turkiye has cut the first steel for Port of Aarhus, Denmark on September 03. Limited number of valuable guests attended the ceremony within the limits of Covid-19 precautions.
UZMAR and Port of Aarhus Executives pressed the button for the first steel cutting and Captain Knud Erik Østerberg Hansen of Port of Aarhus also made the first welding of the vessel during the ceremony. Mr. Hansen said; "UZMAR is one of the leading shipyards of Europe and added "On behalf of Port of Aarhus, I would like to thank UZMAR Executives, sales team and everyone contributed to make this project live before and after the contract signing. I am sure that this project will be a much success and we will maintain our good relationship with UZMAR in the future."
The RAmparts 3000 ASD tug named "Hermes" is 30 meters long and has 2 pcs 2013kw Engines. The new Hermes is designed by Robert Allan Ltd. and will boast 65 metric tons bollard pull compared to the old Hermes' 20 metric tons. Not only does she has great strength, but she also has significantly better maneuverability, efficiency, and precision in the work it will undertake. Hermes will assist the very large vessels arriving at Aarhus with pronounced precision as she has an ASD system (Azimuth Stern Drive).
Hermes has a remarkable advantage that is a major difference from the other tugboats. This precious tug has a mechanic hybrid function called Tandem mode, which makes this vessel safer, highly redundant, environment-friendly. It also maintains a lower operation cost. Mr. Emrah Sonmez, Projects Director of UZMAR said; "We can confidently say that this project will be a real revolution in the towage operations."
Mr. Mutlu Altuğ, Vice President of UZMAR stated; "I believe this vessel, Hermes, will be the first of many we will build for Denmark in the future. We, as UZMAR, gained a new valuable client and Port of Aarhus now gained a lifetime partner. Together we will accomplish this eco-friendly signature project and she will serve many great years for Port of Aarhus." in his speech.
UZMAR Chairman of the Board Mr. Noyan Altuğ said, "We are excited to start this valuable project. Tugboats built by UZMAR in many ports of the world have been serving safely for years. We are adding Denmark to this map with Hermes. Hermes is environmentally friendly and powerful, efficient, with high seakeeping capability and will be equipped with the latest technology. It makes us proud that with the launch of this tugboat, we will contribute to the new period that will start in Europe's important port, Aarhus."