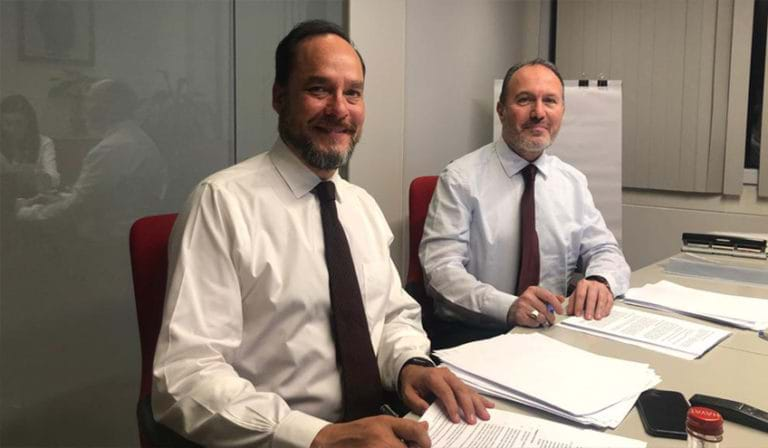 SAAM TOWAGE EL SALVADOR S.A has signed a contract with UZMAR Shipyard to purchase two newbuild 32 mt ASD RAstar 3200W design escort tugs.
The contract signing of two tugboats took place at the headquarters of UZMAR in Istanbul, Turkey between Mr. Pablo E. Caceres, Technical Director-SAAM Towage and Mr. A. Noyan Altuğ, Chairman of UZMAR on 31 January 2020.
The new UZMAR-built Robert Allan-designed RAstar 3200W azimuth tugs are 32 meters in length, specially designed to meet the requirements of offshore operations with a bollard pull of +75 tonnes and speed of + 12.5 knots.
The vessels will provide from 2021 services for the LNG project that Energía del Pacífico (EDP) is developing in El Salvador.
The Computational Fluid Dynamics (CFD) analysis of RAstar 3200W design tug has been completed by Robert Allan Ltd. to supply immense steering and braking forces at escort operations.
UZMAR has already delivered a RAstar 3200W design to SAAM Towage CANADA Inc. in early 2019 named SAAM Tsimshian Warrior, the first IMO TIER III certified tug of Canada. Today, SAAM Tsimshian Warrior is successfully executing her duty at AltaGas Terminal, Canada.
The RAstar 3200W designs are powered by CAT main engines and classified by BV for feature notations;
Bureau Veritas 1 X Hull ●Mach, Fi-Fi 1with Water Spray, ●AUT-UMS, Escort Tug, (design maximum steering force = 70 t, design maximum braking force = 120 t, design maximum escort speed = 10 kn), In Water Survey, GMDSS Navigation Area A1
DESIGN
ROBERT ALLAN LTD.
MAIN ENGINE

2 X CATERPILLAR 3516C

2.350 bkW (3150 bph) @ 1800 rmp

2 x 3150 =6300

THRUSTER
2X KONGSBERG US 255S P30 FP, Propeller :2800 mm dia.
GEN. SET.
2 x CAT C7.1, 118 ekW, 480V, 60Hz. 1Xcat C4.4 44 ekW, 480V, 60Hz.
LENGTH
32 mt
BOLLARD PULL
+75 TBP
WINCH
DMT, Escort winch type Model : RRW-H800KN
FI-FI
Dedicated Diesel(CAT C32) and 2700 m3 fi-fi pump-2 Water/Foam monitors
SAAM Towage–with operations currently in Brazil, Canada, Chile, Costa Rica, Ecuador, Guatemala, Mexico, Panama and Uruguay– operates a fleet of more than 155 tugs at over 60 ports in the Americas, servicing around 25,000 ships a year. It is part of SAAM, a multinational company with 58 years in business that operates in twelve countries in North, Central and South America, and also provides port and logistics services.