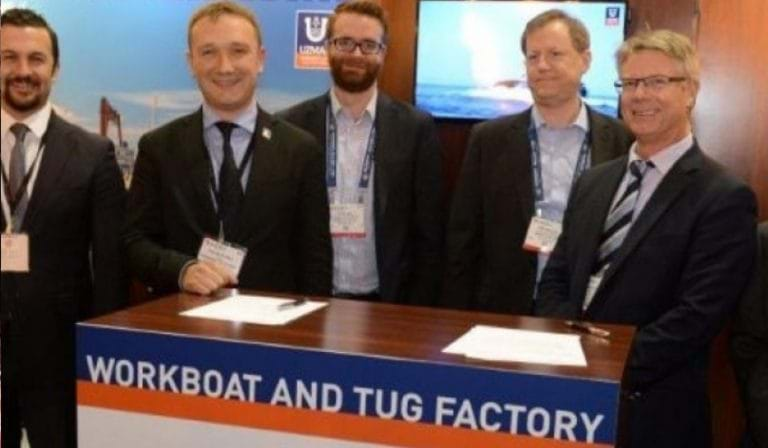 Uzmar Shipyard in Turkey has signed a contract with Robert Allan to co-operate in designing and building high performance escort tugs, Martyn Wingrove reports from New Orleans, USA. The contract signed during the International Workboat Show covers designing and building escort tugs at the Turkish shipyard based on the RAstar 3000-W design.
These 30m tugs will have propulsion packages of up to 90 tonnes of bollard pull while still remaining below 500gt in weight. Uzmar said these escort tugs will be capable of safely performing steering and braking manoeuvres, as well as carry 140m3 of fuel and 30m3 of fresh water.
These will be 13m-wide tugs with a maximum draught of 5.5m and accommodation for 10 crew. The design can be scaled to different lengths said Uzmar proposals and project manager Hasan Ata. He added: "We will start construction in early 2017. The vessels should be available to be purchased in 2018."
Robert Allan manager of project development, Jim Hyslop hopes the agreement with Uzmar will lead to construction of several new escort tugs at the shipyard. He added: "The signing of this design contract with Uzmar will spur the building of new tugs allowing owners to quickly respond to today's demanding tender requirements."
Uzmar has built more than 90 Robert Allan-designed tugs and workboats since the first project in 1996, including aluminium catamarans, escort tugs and shallow draught pushboats. Uzmar was founded by Capt Altay Altug, a prominent member of the Turkish maritime community.